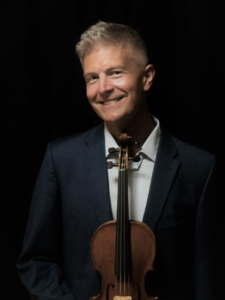 Dr. Mark Schuppener is the conductor of the Preparatory Orchestra of the Potomac Valley Youth Orchestra program and has also served as a strings specialist and frequent sectional coach. Dr. Schuppener has garnered acclaim as a soloist, chamber musician, conductor, arts administrator, and passionate music educator. Since moving to the Washington DC area in 2018, he has served both as the Director of Fine and Performing Arts and Director of Strings and Chamber Music at Holton-Arms School in Bethesda, MD.
As a music educator, Dr. Schuppener has held appointments as a university professor of music, K-12 music educator, private instructor, chamber music coach, youth symphony conductor, and held faculty positions at prestigious summer music festivals and schools throughout the United States. For the past twenty years, Dr. Schuppener has been involved with youth symphony organizations around the country as a conductor, advisor, board member, and administrator in Maryland, Texas, Florida, Michigan, and Wisconsin. Most recently, he was appointed to the board of directors of the Maryland Orchestra Directors Association within the Maryland Music Educators Association.
Orchestral performance opportunities have taken Mark throughout the United States, Spain, Czech Republic, Austria, and Hungary, with roles as Concertmaster and Principal within the Michigan Philharmonic, Las Cruces Symphony, Dearborn Symphony Orchestra, El Paso Opera, El Paso Symphony Orchestra, Florida Grand Opera, Aspen Chamber Symphony, Aspen Symphony Orchestra, and the orchestras of the Eastern Music Festival and School. As a chamber musician, Dr. Schuppener has performed as a semi-finalist at the Fischoff National Chamber Music Competition and served as Director of Chamber Music at the Philadelphia International Chamber Music Festival.
Schuppener enjoys artistic collaborations of all types, whether it is classical, rock, pop, bluegrass, and original compositions. His New York solo recital debut was presented by the Argentinean Consulate of New York City by invitation and included the release of his album "Latin American Duos" with International Steinway Artist, Dr. Oscar Macchioni. Other highlights include sharing the stage with Aretha Franklin and recording on Sony Records with Barry Gibb of the Bee Gees. Mark earned a Doctor of Musical Arts and a Master of Music from the University of Michigan and a Bachelor of Music from the University of Wisconsin-Madison.